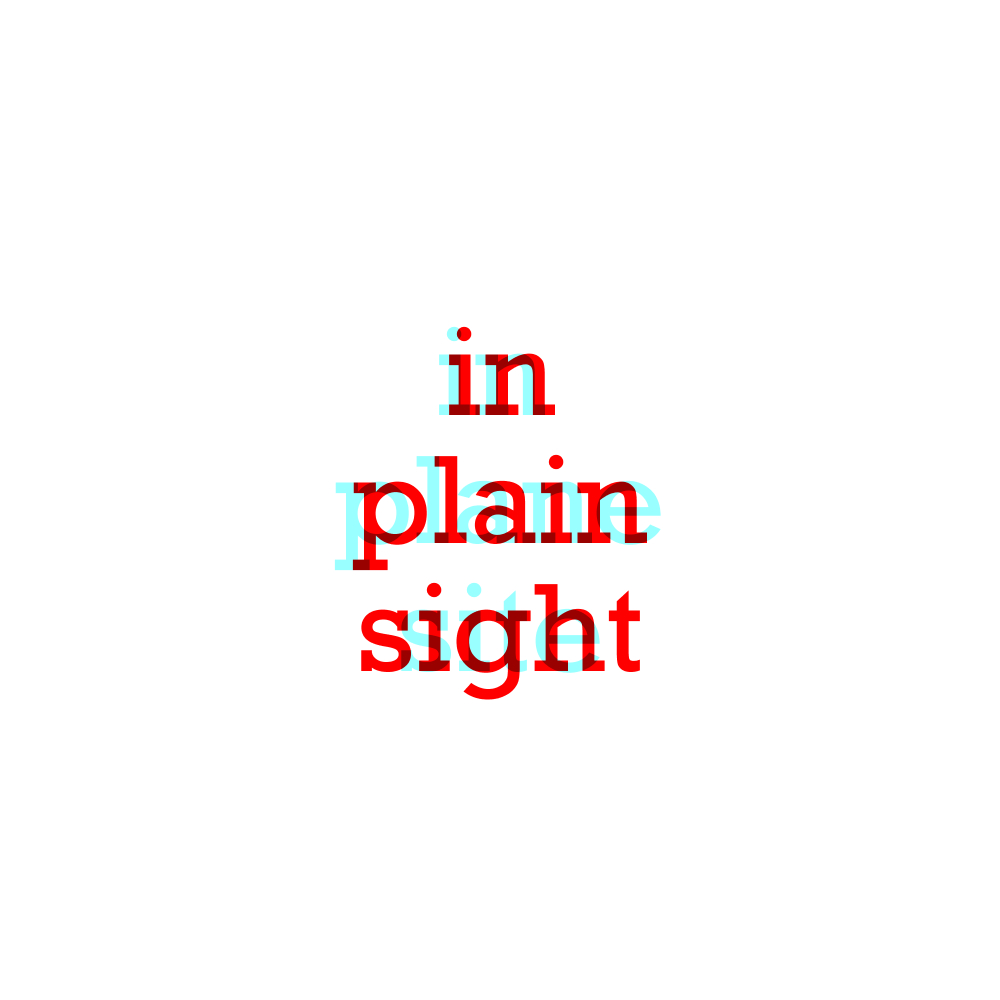 In Plain Sight (In Plane Site)
In Plain Sight is an augmented reality experience reimagining city architecture through playful exploration connecting people by playing.
The work encompasses a series of digital artworks visible only through the lens of a smartphone at several physical locations across Milton Keynes. A map will document the locations encouraging citizens to become active participants, discovering both physical and digital landmarks.
In Plain Sight.
June 2017.
Ashley James Brown.
In Plain Sight uses the concepts of Steganography with Augmented Reality digital techniques to create an exploratory smartphone experience.
Steganography is the art of concealing messages, files, images and videos inside another image. Unlike usual cryptographic processes, steganography is as much concerned with the visible encoding as it is the hidden secret. It is not apparent or obvious that the image hides a secret. This is the opposite to the written coded techniques in which it's visible that there is some sort of encoding and secret message.
Architecture and planned public spaces often hold hidden secret messages. Social, digital and game like playable reinterpretations by its citizens can redefine the actual physicality of the constructed space. The sculpture represents a signpost system in which the content is only viewable through the correct lens to a select audience.
In Plain Sight takes a series of markers, logos, street signs and sculptures and encodes hidden digital artworks viewable only through the lens of the smartphone. Audiences and players can wander and explore the streets of Milton Keynes searching for these hidden works, revealing them through the application. A map pinpoints a few to get started. This piece will evolve over the duration of the Digitalis exhibition bringing new content to entice and encourage repeat exploration.
Download now from Google Play and the Apple AppStore. Search for DTP Digitalis
Once downloaded the App will allow you to scan certain markers listed inside the App. Why not try the logo on the sculpture in the library to get started?
Credits:
In Plain Sight is part of The Dystopian Town Planner, a series of work by Ashley James Brown created for Digitalis that explores the themes of steganography, street signage and the way in which place is designed by authority and repurposed by citizens.
With thanks to Darius Powell for AR testing and Granville James Brown for carpentry and building support.
Tools:
Unity Game Engine
Vuforia AR toolkit
Android Studio
Google Play Developer toolkits and frameworks
XCode
Apple Developer toolkits and frameworks
Tested on Android 7.1 and iOS 10.3